Showing
7
of 7 results for
Mental health difficulties can best be treated by understanding the experiences of those who have lived through them.
---
---
Applies lessons learned from the Irish bailout to recovery from the Coronavirus pandemic.
---
---
Provides a clear overview of common mental illnesses and explains mental health policy and services in Ireland, how to access care and community support, the rules governing involuntary mental health care, and the underpinnings of happiness and well-being in Ireland today.
---
---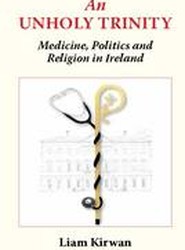 A highly critical look of the historic relationship between politics, the Church and the medical profession in Ireland
---
---
Tells the true story about a girl named Deirdre, who was sexually abused by her father. This is not just a tale about misery and misfortune, however - it is a story about hope and recovery, of understanding and healing.
---
---
Inspired by the author's autistic son, Cian, this book offers twelve stepping stones to help anyone navigate through difficult times.
---
---
Healthcare is referred to as a complex environment and managing in this environment does not have parallels in any other industry. This book insists on the recognition that academic models need to be complemented by context-specific pragmatic approaches. It distils some of the experience that exists within and around the Irish healthcare system.
---
---